May 2008
---
Upcoming Events
Ride The Lobster
16 June Nova Scotia, Canada
35 teams representing 13 countries, many from the US as well as South Korea, Singapore, UK, will take part in Ride The Lobster, an 800km unicycle race in Yarmouth, Nova Scotia, Canada on June 16th, 2008. There's still time to arrange your trip to Canada if you've recovered from Vietnam! More details at the website.
Australian Team for UNICON XIV
25 July-4 August, Copenhagen, Denmark
A reminder that unicyclists are still wanted for the Australian team to participate at UNICON in Copenhagen. This is your chance to participate in the biggest international unicycling event, meet other unicyclists from around the world and learn new skills. The draft program is now available, as well as information about registering, facilities, accommodation etc. from the UNICON website. For those intending to go, please contact Ashley chickenloaf_au [at] yahoo [dot] com (Curtis) who is co-ordinating the Australia team.
Unicycling Mini Festival at MJC 2008
26-28 September, Collingwood College, Melbourne VIC
With insurance assistance from the AUS, the Melbourne Juggling Festival will be able to welcome unicyclists for the first time in 2008. The plans include a dedicated unicycling hall and unicycling events and workshops. More details will be forthcoming at the MJC website.
Unicyclists Wanted for Spring Cycle Event!
Sunday 19 October, Homebush NSW
Bicycle NSW is holding its annual Spring Cycle event on Sunday 19th October. The event attracts over 10,000 people each year riding from various locations across Sydney.
We are seeking keen unicyclists who are interested in providing entertainment at the finish site at Sydney Olympic Park. The unicyclists will be needed between 10am - 1pm. Please email JodieP [at] bicyclensw [dot] org [dot] au (Jodie) or call 9218 5451
It will be a great fun-filled day!
Call for Unicyclists for Sydney Bicycle Film Festival
3-16 November 2008, Newtown NSW
The artistic celebration that is the Sydney Bicycle Film Festival (aimed at promoting cycling in all its forms) is looking for unicyclists to participate in its festivities in November. Unicyclists are welcome to participate in all events contact the AUS secretary to get involved. See the following for key festival events:
The Art of Bike - over two weeks BIKESydney will run free social rides between participating galleries and art spaces exhibiting art devoted to cycling and cycles

Bikes on Show - unicyclists are invited to demonstrate their skills along with other urban cycling sports, including unicycle hockey, bike polo, roller races and unicycle and bike trials. Art workshops are available to transform your unicycle or bike into a work of art

Bike Love Street Parade - bringing together the various tribes of the cycling community (unicyclists, daily commuters, cycling clubs, bike messengers and retro bikes), this event is free and open to all cyclists. It will wind its way through Newtown, arriving at Sydney Park for the Bikes Rock Fashion Festive

Bikes Rock Fashion Festive - urban street wear fashion will be on show along with bike polo demonstrations, bands and a showing of short films from the International Bicycle Film Festival

Cycling films - Dendy Newtown will screen two days of bike films
For information about the festival and individual events, see the Bicycle Film Festival website.
Recent Events
Canberra Unicyclists join Sydney in Hockey Matches
In preparation for UNICON XIV, around ten Canberra unicyclists joined local Sydney hockey teams for some hockey practice last month (20 April, Newtown NSW). It was a long, fun day with lots of short matches, capped off with a friendly rival match between Canberra and Sydney.

Thanks to all those who participated and we can't wait to do it again!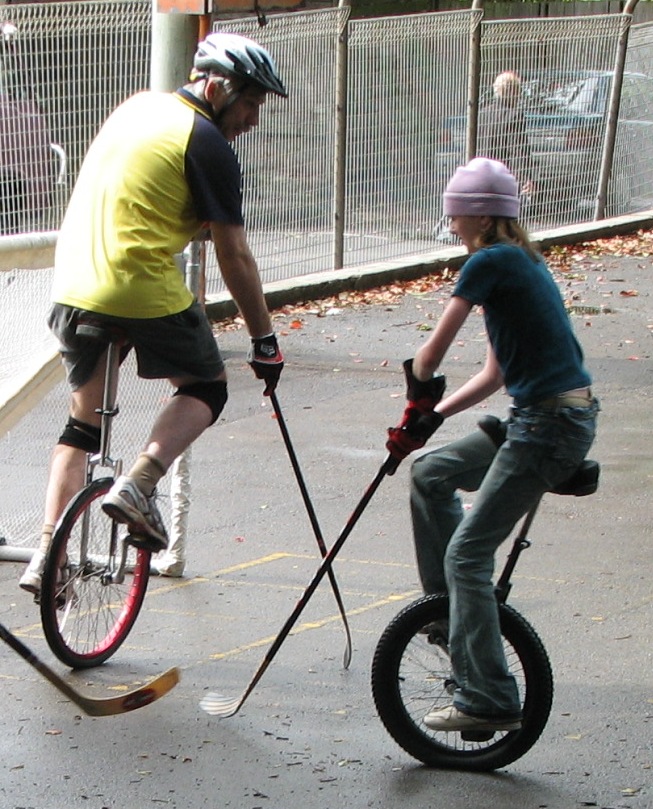 JuggleLink Conference in Melbourne a great success!
from Christian Parr
Melbourne's first JuggLink Conference (17 May, Northcote VIC) was a great success. It focused mainly on performance, with an eye towards manipulation workshops and specific areas of professional development. A few unicycles made it to the event, including a giraffe. The event was well turned out with around 40 in attendance, including people from Adelaide, Sydney and New Zealand. I witnessed Tony Melton throwing some crazy tricks during the day, including free-mounting the giraffe unicycle!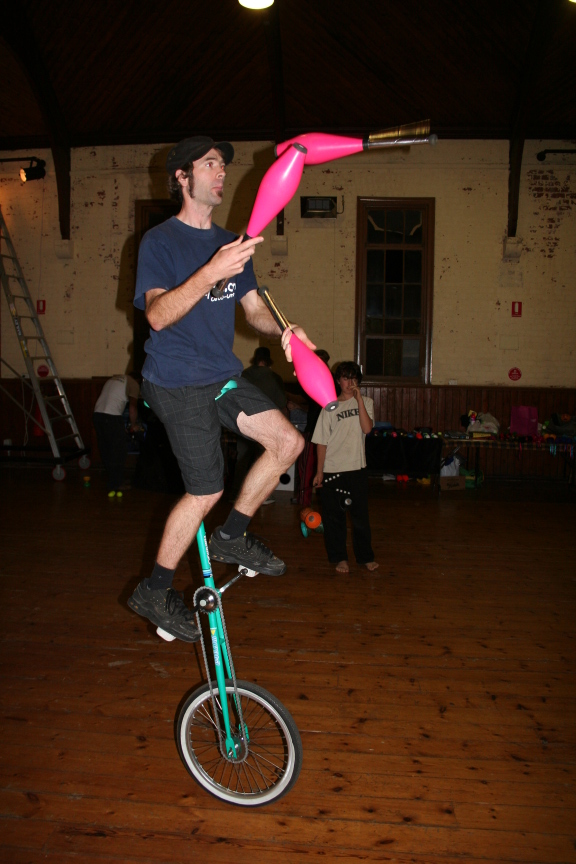 The highlight for me was the Open Stage Show in the evening. After an intense 10-hour day of juggling, learning and sharing, 10 people were inspired, and still had energy, to get up on stage and show the audience a creation of their own. Each act was very different: Mime-juggling, Joke-telling, 1,2,3-diabolo routine, silent object manipulation, and an improvised piece with gaffer tape.
If people are keen to see unicycling included next year, please drop me a mjcinfo [at] gmail [dot] com (line)
Uninam Pictures on display
Can't get enough photos of unicycles in Vietnam? There are more photos of the Vietnam ride (featured in the last months newsletter) at Geoff Huntleys website.
Notices
Looking for Trials/Muni Riders on the Mid-North Coast NSW
Patrick Collopy is a young beginning trials rider looking for more people to start mountain unicycling. He lives in Woolgoolga near Coffs Harbour in NSW email pcollopy [at] internode [dot] on [dot] net (Patrick) if you are interested in riding with him!
Riding Around
Pedalling is not for everyone. Check out this motorised unicycle by Ben J. Poss Gulak. It's an electric vehicle using a Segway-style microgyro-motor system with forward and back and turning gyros... Great pictures on the site.