You are hereHockey Gold at the Asia Pacific Unicycle Championships!
Hockey Gold at the Asia Pacific Unicycle Championships!
---
Welcome home to the Australian team from the Asia Pacific Unicycle Championships held in Seoul, Sth Korea this August.
This was a wonderful and huge event that has continued the tradition initiated in Singapore in 2007, bringing together teams from five Asia Pacific countries – Australia, China (Hong Kong), Japan, Korea, Singapore.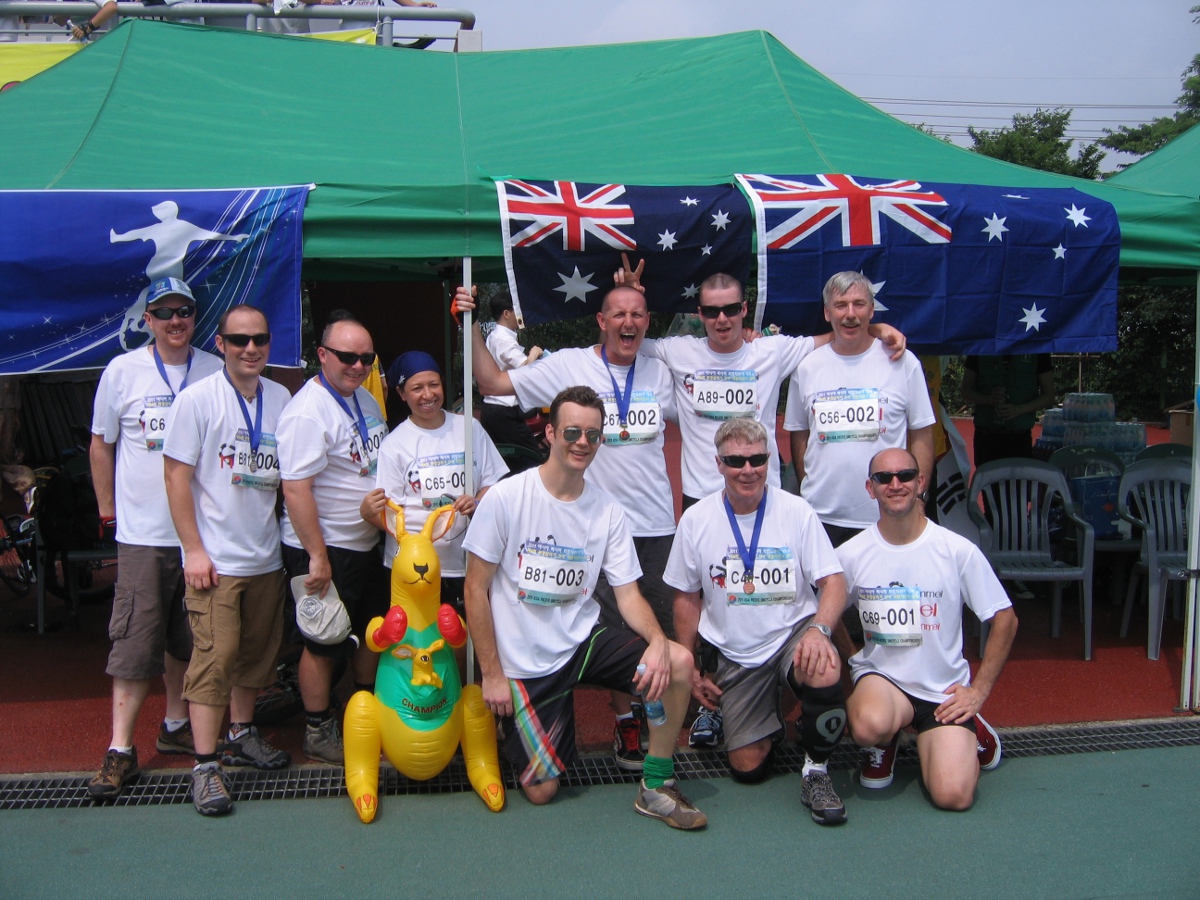 Team Australia boasted Ashley Curtis, Cris Bailiff, Matt Price, Rochelle Braaf, Ty Peters and Tynan Rollo from Sydney, George Cara from Melbourne, and David Buchanan, Rod Lambert and Tom Lambert from Canberra.
Day 1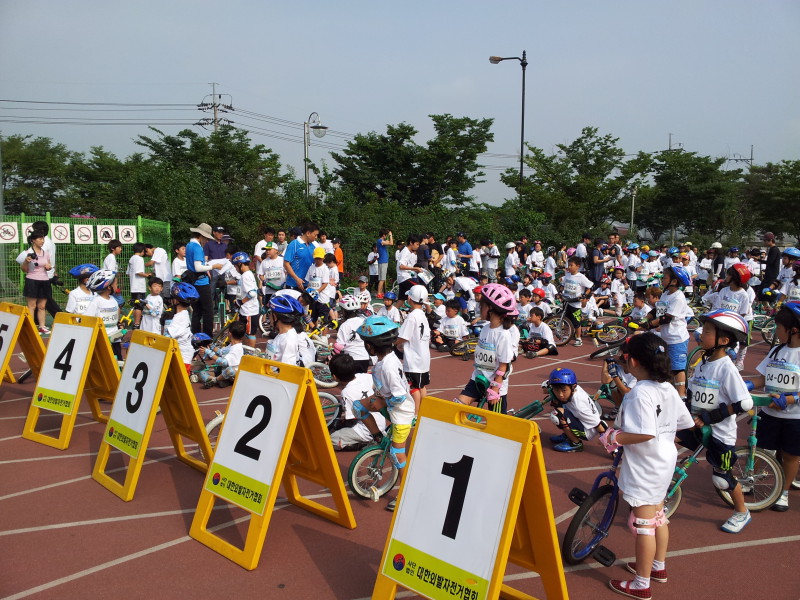 The athletics competition on the first day was an impressive sight, held in a beautiful sports stadium. With over 400 unicyclists competing, the vast majority of whom were Korean youngsters, there was a fantastic energy to the competition.
Given the number of competitors, races were mixed by gender but had designated age categories including open and masters age categories. The Australians competed in every event - the 100m, 400m, 400m relay, 30m wheel walk, 50m one footed, obstacle course and slow-board - with ability not being a criteria in some events!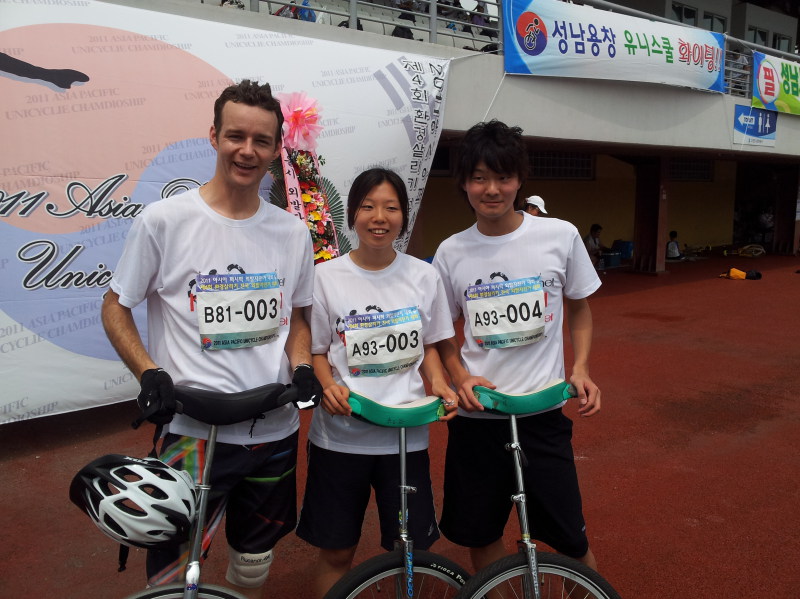 Despite the hot and steamy conditions, Ashley Curtis won his 100m heat to compete in the final. He came in 4th overall (showing just how fast some young members of the Japanese team were!) in a time that set a new Australian record.
Other highlights for the day were:
Slowboard
Obstacle course
Matt - Gold (Masters)
Ashley - Gold (Open)
Tom - Silver (Open)
Rollo - Bronze (Open)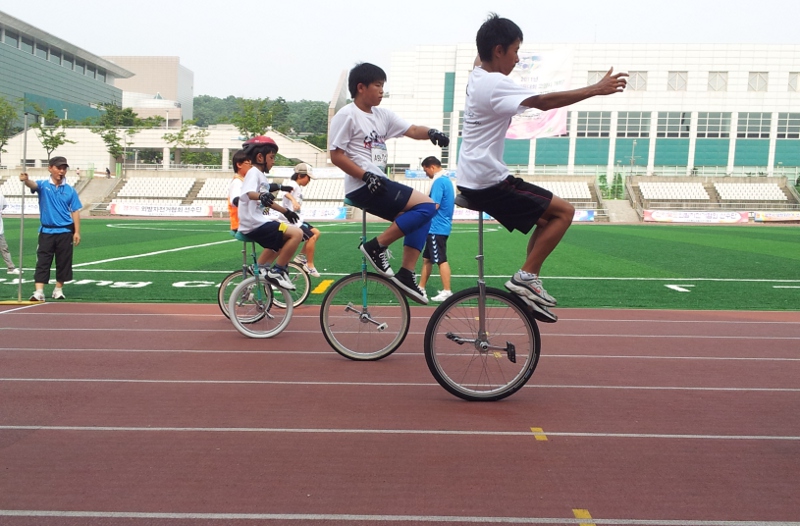 Day 2
10km
The 10k presented a stern challenge to competitors. The course had to be changed due to flooding on the planned riverbank course. Seoul suffered the most severe floods in 100 years in the two days before the event. Rain complicated the conditions but didn't deter the many competitors. Again the serious challenge was on between the super fast Japanese riders and Ashley for first place. Australians performed well with George, Matt and Ashley all placing in their age categories. Congratulations also to Cris, David, Rod and Matt for competing and special congrats to Rochelle for completing her first 10km.
George – Silver (Masters)
Matt Price - Bronze (Masters)

Ashley – Silver (Open)
That night the Koreans treated the international teams to a wonderful feast - two walls of food! The awards and medals for the competitions so far were cause for much celebration and photo taking. The speeches (all of which had to be translated from English to Korean to Japanese, or from Japanese to Korean to English) were moving and congratulatory.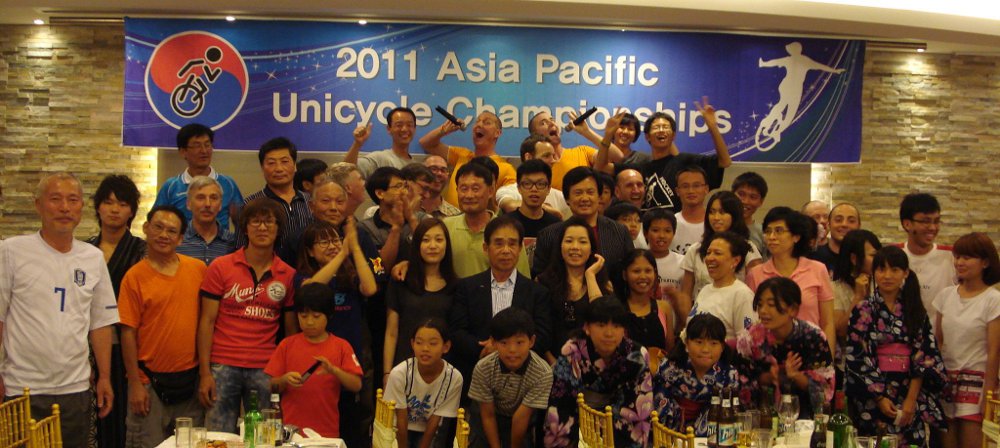 Cris hinted at Australia hosting the Asia Pacific Unicycling Championships at some time in the future - which may have been interpreted as 'next time'. The highlight of the evening was definitely the impromptue assault on other teams with origami ninja stars made by the Japanese kids.
Day 3
Hockey
Hockey was the ticket on the third day of the comp, with Australia competing against a combined Singapore Japan team, Hong Kong, Korea and Korea youth. In the opening round the scores were:
Australia vs Hong Kong: 4-1
Australia vs Korea: 2-2
Australia vs Korea Youth:

3-0
Australia vs Singapore: 11-1
After drawing with Korea and winning the other rounds, Australia was guaranteed a spot in the final, but it was very close for the other final spot, with Korea and Hong Kong equal on points - in the end, a one point goal difference put Korea up against Australia for a potential repeat of the 1st round tie.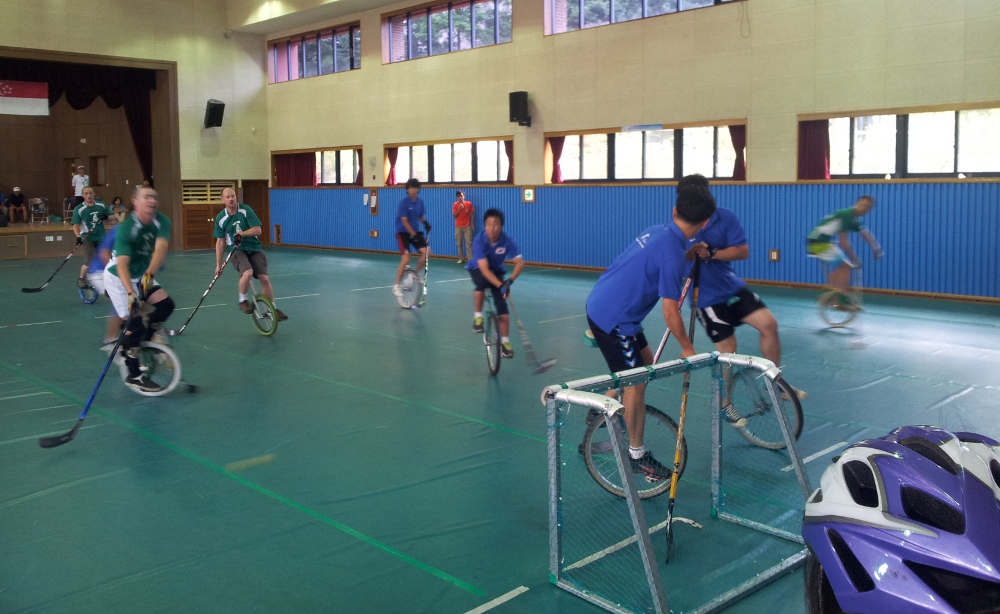 The two teams faced off in a tense final that almost saw Korea draw in the last minutes of the game, but in the end Australia won 4 goals to 2, retaining the Asia-Pacific championship title for the 3rd successive time.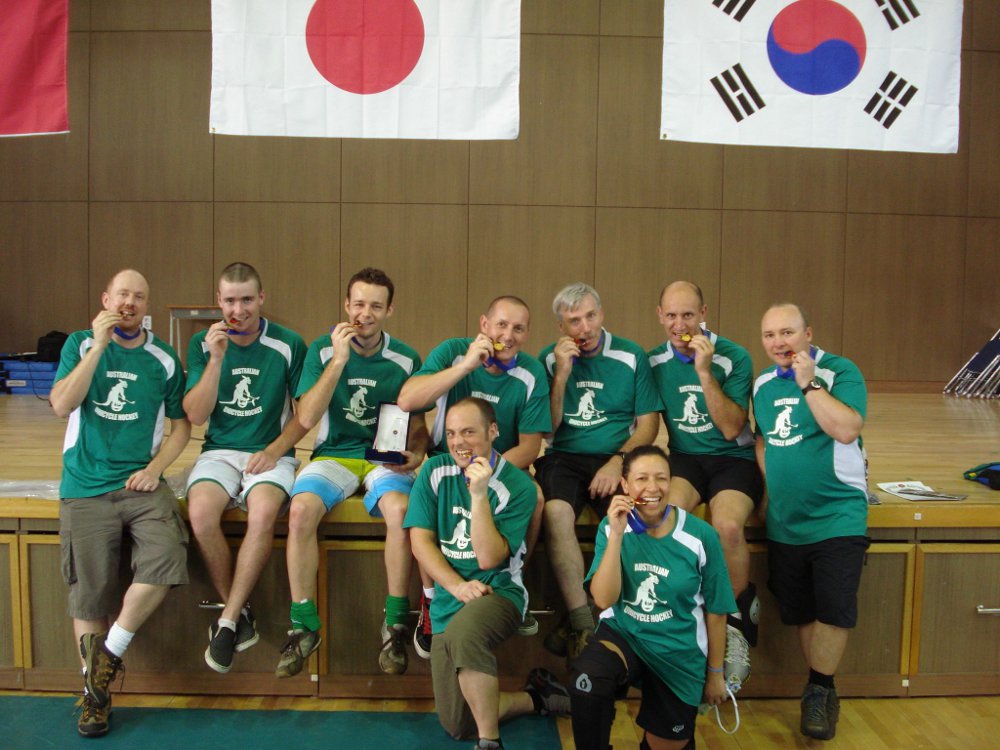 Wrap Up
Our warmest thanks and congratulations to the Koreans for putting on a fantastic event and competition. It was wonderful to see so many young Korean competitors taking part – they are going to be a force in the coming years.
Special thanks to Master Cho and the other event Korean organisers for all their work and especially the social events. Thanks also to Francesca and Jimmy for translation! It was so much fun catching up and competing with our Asia Pacific neighbours.
To all the Singapore, Hong Kong and Japanese team members, we hope you all had a chance to see a little more of Korea and had a safe trip home. A fond farewell to Tynan who has made his way back home to Canada – we'll miss you! Good luck to Rod and David who went on to do the Yunnanuni Unicycle Tour through South-Western China – best wishes guys (and waiting for the report)!
Can't wait to do it all again in two years! The location for the next Asia Pacific Unicycling Championships has yet to be determined but Singapore and Australia are considering whether either one might take it on.
Australia is considering whether to hold the event in 2013 as part of its national championships, Uninats. If there are any people interested in helping with organisation (especially Korean speakers!) contact the AUS secretary for more details.
Read an article about Tom at this event in the Gunghalin News.