VIC
---
Ride Update
A personal message from Sam:
The countdown has officially begun!

The Ride to Conquer Cancer benefiting the Peter MacCallum Cancer Centre is just around the corner! I can't find the words to tell you how great it feels to know that together we ARE making a difference in the fight against cancer!

You may or may not of heard, I had a nasty crash on my unicycle while training last week...I have had the week off training and my scabs are healing! however my right heel is still really bruised and i'm unable to put weight on it without pain! :-S I'm still planning to do the ride however! So your help would be even more appreciated to help me get over the line.

Also be sure to visit my Wife

Michelle's page and donate

her some money too, I will struggle to complete the ride without her support and therefore she needs yours also :-)


The Ride is only a couple weeks away! I'm grateful for everyone's support.

Thank you in advance for your generosity!

Samuel
Mal Bird is looking for unicyclists to join him in the Chiltern Mo Ride - a charity ride for Movember where Unicyclists are welcome, and no moustach is required.
The ride is on the weekend of 24th-25th of Movember, in Chiltern, Victoria.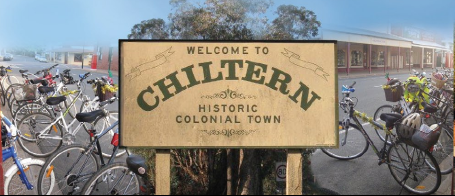 There are a range of ride options with a choice of distances and terrains, so something for every uni rider.
Full details at the website, or download the application form.
Mal from Unicycle.com Australia is organising another Muni weekend. This time it will be held in the snow on Saturday and either the snow on Sunday or in the Mountains around Mt Beauty depending on the rider's evaluation of the Saturday riding. Bring your own Muni but Mal will also have the new Nimbus Oregon on hand for riders to test ride, plus his Surly with a Large Marge tyre. The wide tyre and disc brake on the Oregon should be in their element in the snow. Mal has been living in the Mountains at Mt Beauty/Falls Creek for years and knows the area well, so he can organise some downhill rides to suit riders' ambitions on the Sunday if Falls Creek is too cold or unsuitable.
If you are not a current member of the Australian Unicycle Society you will need to join for insurance purposes. See www.unicycling.org.au for details. Mal will also have a thread on www.unicyclist.com
RSVP: Mal via info [at] udca [dot] com [dot] au (email )or phone 1800 864 292.
We are proud to announce the next edition of the national unicycle championships will be held in Melbourne from the 9th to the 12th of March 2012.
Melbourne is a great place for riding and we hope as many unicyclists as possible can join us. If you would like assist as a volunteer please contact geoff [dot] robinson [at] csiro [dot] au
The annual Lilydale to Warburton Rail Trail Unicycle Ride is on again, Sunday 6th March 2011. Meet at the Lilydale railway station car park at 9:11 am. The rail trail is mostly flat with a graded gravel surface. It is an 80 km return journey with lunch at Warburton. This is the only annual unicycle ride held in Victoria so don't miss out!
On Sunday 20th February 2011 there will be a muni ride at Forrest Mountain Bike Trails. This is a social ride along the awesome trails designed by the award winning trail builder Glen Jacobs. Forrest is located in the Otway Ranges, about 2.5 hours drive west of Melbourne.
Meet up at the carpark off Boundary Rd, northern section of the park at 10:30 am. Riders of all skill levels are welcome however we recommend you bring a suitable mountain unicycle fitted with a knobby tyre. You should also bring a helmet, gloves, knee/shin pads, sunglasses, sunscreen and sensible shoes.
Map of trails link
If you require assistance with transport to Forrest from Melbourne, please contact Geoff Robinson at geoff [dot] robinson [at] csiro [dot] au we may be able find a car for you to share.
A blue Northcote sky in the early afternoon saw the concrete warming up for a top day of street unicycling at the local skate park. A collection of riders from Melbourne, regional Victoria and interstate made the journey to compete at one of the few events held for street riders in Australia.
The spectators arrived early whilst the competitors turned up at a more traditional time (in the unicycle world) of about one hour after the official start. The riders spent some time warming up and familiarising themselves with the Northcote skate park before the competition began in earnest.
After a short rider briefing, our judge Luke Collalto took up pen and paper as the first competitor George took to the course. The only entrant in the "Masters" category, George put on a solid display of basic skills. After his two minutes was up Isaac rolled on and attempted some technically difficult tricks. Isaac had pulled off some admirable moves in the practice but found the pressure of live competition a challenge. A newly moustached Dan followed; he impressed the crowd with a drop in from the top of the quarter pipe and a well executed sequence of manoeuvres. Joe put on an excellent performance but struggled under the pressure of trying to match the world class efforts of Dan. Sam laid down some great moves, working hard to make the most of the course despite the limitations of the Northcote venue. After some last minute repairs to his vehicle, Andrew was the last man to make his way onto the course. A lesser rider might have been intimidated by the high standard of the previous riders but this did not bother Andrew who knew what needed to be done to make the final round.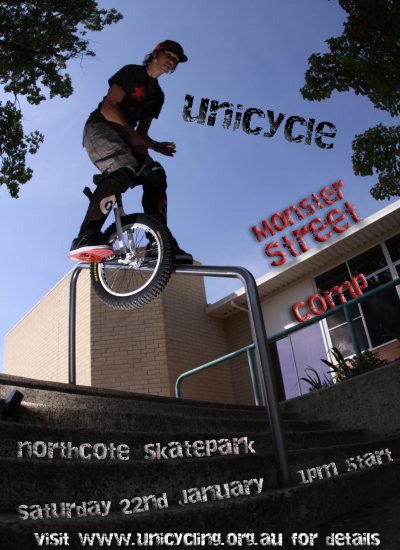 This summer the Melburn crew are hosting the Unicycle Monster Street Comp at the Northcote Skatepark (Dennis St, Northcote; behind the shopping plaza). The action starts at 1pm on Saturday 22nd of January 2011. This event will be a good opportunity to practice street riding at a competition level in between UniNats, meet other street riders and learn new skills.
There is no entry fee for the event but you must be a member or temporary member of the AUS to ride. Click here for details on how to join if you are not already a member. You can join on the day if that is easier.
Follow the event on facebook to keep track of the details.
Map:
Javascript is required to view this map.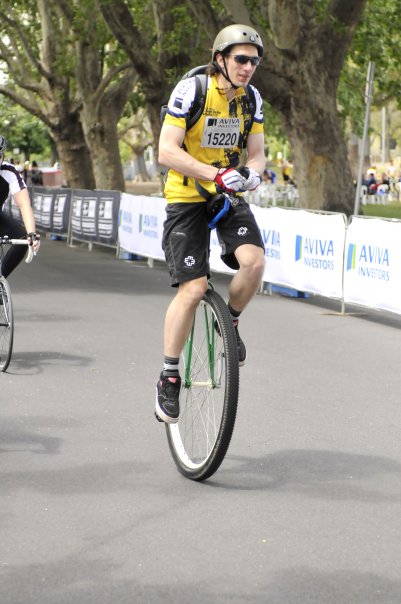 More than 4000 cyclists are currently making their way around Victoria in the Great Victorian Bike Ride.
Mathew Thomas from Caulfield (VIC) is taking part on his 36" unicycle as part of his training for the upcoming Kenya & Tanzania unicycle tour.
The Warrnambool Standard newpaper has done a quick article up - IF you think cycling for 600 kilometres on two wheels is tough, try riding on one.
All the best, safe travels!
Update: Barry Clearwater is doing the GVBN with Matt and has been interviewed by Stateline on ABC1.
Melbourne Unicyclists meet on the last Sunday of every month for a group ride, and some hockey if enough people turn up.
Meet at the eastern end (Nicholson St side) of the Melbourne Museum forecourt at about 2.00 p.m - usually riding until 5ish.
For more details or to confirm dates and places, contact Geoff Robinson - geoff [dot] robinson [dot] 44 [at] gmail [dot] com
There is also a mailing list for discussing the ride and Melbourne unicycling in general: