Uninats 2012
---
Information about Uninats 2012 in Melbourne
Congratulations to all those who took part in Uninats! Here is the full list of results.
FLATLAND
GROUP

POSITION

NAME

Juniors

1

Waylon Batt
After much counting of smiley stamps, the final pointscore winners can be announced at last.
Jaryd Harris wins the Uninats 2012 Overall Champion title, and also managed to win the overall participation score by one point. Well done to Jaryd!
All the participation and pointscore winners below who haven't already win a voucher from Unicycle.Com will be receiving one in the mail soon!
Particpation Winners
Riders who entered or participated in the most events over the Uninats weekend:
Junior Female - Kiera Burnet - 18 points
Junior Male - Ben Weller - 31 points
Open Female - Kim Monty - 19 points
Open Male - Jaryd Harris - 32 points
Masters Female - Christine O'Connor - 11 points
Masters Male - Ty Peters - 21 points
Pointscore Winners
Riders who scored the most points overall:
Junior Female - Lily McLaughlin - 49 points
Junior Male - Joseph Baronio - 78 points
Open Female - Kim Monty - 47 points
Open Male - Jaryd Harris - 88 points
Masters Female - Christine O'Connor - 41 points
Masters Male - Ty Peters - 48 points
Here is a collection of all the stories, videos and public photos we know about for Uninats 2012.
If you have photos or videos we can add here, send details to aus_newsletter [at] unicycling [dot] org [dot] au (the editor) or contact us. Either links or attachments are fine.
Photos
Muni - Downhill
Mark Lavis in the You-Yangs - Photo by Matty
Videos
Group Freestyle
Our list of Australian Records has now been updated from the Uninats 2012 results and we have a total of 27 new Australian records to announce!
Here are the speed-trial results from the electronically timed "Flying 40m" on Sunday.
There are no group divisions or ribbons for this event - the winner of each wheel size gets to call themselves "the fastest Australian Unicyclist".
The Expert Open Male category in the trials competition came down to a repeat of the Uninats 2010 battle between Joel Gleeson and Kevin Wharton, tied on 30 points each after completing every line in the Trials course.
This year Joel turned the tables and emerged the victor, claiming the title of Australian National Unicycle Trials Champion! We hope to have video soon - look for the Photos and Videos link.
The trials winners in each group are shown below. Ribbons will be posted out. Individual results will be published when we type up the full event results.
Novice
The events of Uninats 2012 have finished, but the fun goes on!
Photos and Videos
Please send us links to your photos and videos and we'll collect them here on the web site.
Video Prize
There is also a prize of a Unicycle.com voucher for the best Uninats 2012 video received by the 30th of April, so break out the Final Cut or After-Effects and get cracking!
Final Results
Trials results will be up on the web site very soon. Once they are worked out we will start on the stack of pointscore cards.
There are still various prizes and vouchers to be awarded once we have all the final results - stay tuned!
AUS Records
The AUS records table on the website will be updated as far as we can, but please check your own times and let us know if you think you have a new record that we miss.
The full Uninats 2012 Program of Events is now available as a PDF.
The program has all the venue information, maps, timetables and other information you need to find your way around and enjoy Uninats 2012.
You can print your own colour copy, or pick up a black & white one at the registration desk on arrival.
Pick the "brochure" version below if you can print double sided and would like to make your own A5 booklet.
Pick the "linear" version for regular printing on A5 or "2-up" on A4 paper.
The Uninats Unicycle Party will be held on Saturday night at the Collingwood Gym (after all the daytime events).
Entry is free for all registered participants, and there will be music, lots of unicycle games and dinner whilst we watch the Video competition.
We will be collecting pizza from a nearby pizza shop - place your order before 3pm at the registration desk. You are also welcome to bring your own food & soft drink instead.
The theme for the party is 'Movies' - you can interpret this however you like, and come as a movie star, special effects monster or even the director! As long as you can still play red-rover, sumo, dodge ball and gladiators!
The Good Brew Company will be bringing their own locally made organic soft drink selection, on an unusual cycle.
Uninats 2012 is less than a week away!
The Official Program is now available for download.
The timetable below is no longer being updated and may become out of date - check the program for the final word.
---
Friday 9th March 2012
Location
Time
Activity

South Bank Ride

Afternoon

Meet 3.45pm for 4pm departure.
After last year's successful video competition the AUS is proud to announce we will be holding another competition for the 2012 edition of UniNats. The videos can cover any aspect of unicycling. We will hold a movie night at the UniNats where the videos will be judged by the audience.
The video should be no more than five minutes long and in Standard Definition format. High Definition format may not work with our equipment. To enter simply bring your movie to the competition and notify the organisers of your intention to enter.
Thank you to all the people who entered the competition. Congratulations to Tiffany for her winning design. For her efforts Tiffany has won free entry to the 2012 UniNats being held in Melbourne, 9th - 12th March.
Please feel free to post it up on your school, business, community notice boards or even a local bike shop. The more people who know about the event the better.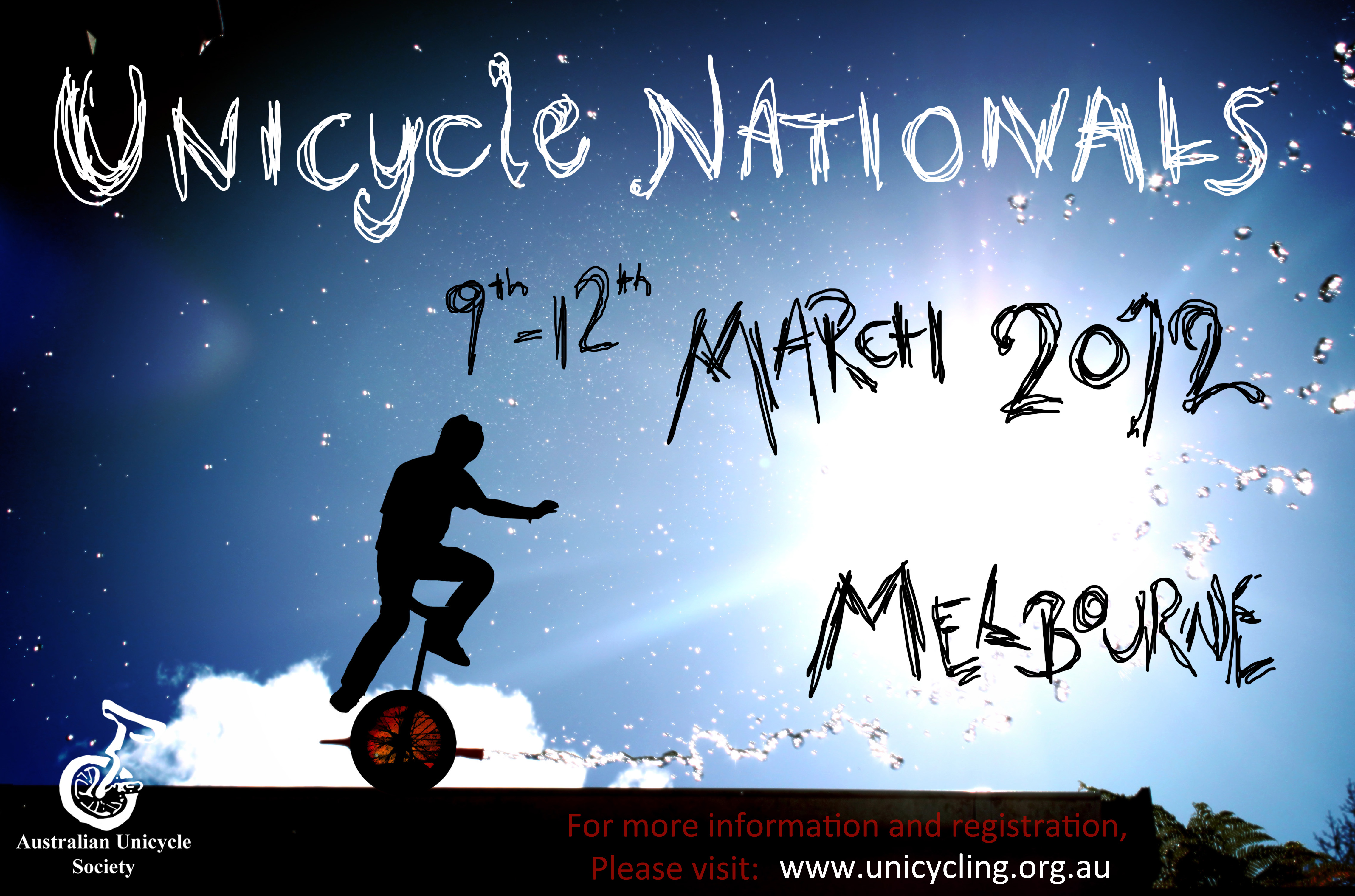 Click the image to see full size, or click here to download.
We are proud to announce the next edition of the national unicycle championships will be held in Melbourne from the 9th to the 12th of March 2012.
Melbourne is a great place for riding and we hope as many unicyclists as possible can join us. If you would like assist as a volunteer please contact geoff [dot] robinson [at] csiro [dot] au